Duhovka Montessori Teacher Education Programs are located in Prague, Czech Republic, Hamar, Norway and Amelia Island, Florida, USA and serve the International Montessori community of teachers within Europe and all over the world.
Duhovka Montessori Teacher Education Programs Early Childhood (2.5-6) and Elementary I-II (6-9 and 6-12) hold Full Affiliate status with the American Montessori Society (AMS) and are accredited by the Montessori Accreditation Council for Teacher Education (MACTE). Our goal, to bring the high standards of AMS and MACTE to the European community has been met with enthusiasm and support which has allowed us to continue our journey.
Our program strictly follows all guidelines of these international accrediting bodies. Our teaching sites and classrooms are beautifully renovated with a complete inventory of Montessori materials and are taught in English.
Duhovka Mission Statement
Duhovka Montessori Teacher Education Program is directly aligned with the pedagogical approach developed by Dr. Maria Montessori and exists to educate adults in a respectful and dynamic environment. Our mission is to prepare adults to have a successful career in Montessori education.

Duhovka is a Czech word that we chose to represent our educational system. The word has two meanings in Czech. It is a rainbow marble which contains all colors of the rainbow. You can see children's awe when the sun sparkles through it. It is also the iris of the eye – unique for every person in the world – that represents one of the senses we use to perceive and learn about the world around us.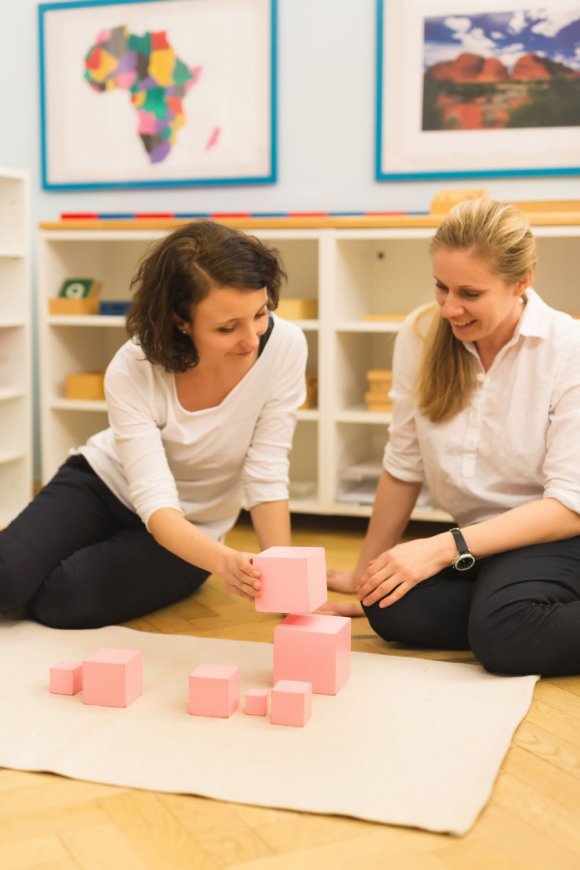 Duhovka Program Benefits
Quality:

Montessori programs follow all guidelines of American Montessori Society

Experience:

Montessori courses are led by Montessori professionals with decades of experience who work as teachers

Work-Life Balance: Summer intensives with long weekends during the school year, plus online components. The intensive teaching blocks take place in the months when teachers have school holidays
International Focus: Montessori training is taught in English, translation is supported
Combining Theory and Practice: Instruction includes hands-on learning and open discussions
Authentic Environment:

Montessori classrooms in Duhovka Lab Schools are used for observation and practice. We offer Early Childhood (2.5-6) and Elementary (6-9 and 6-12) teacher education at the well established Montessori schools.

Respect for Teacher Transformation:

Fully supported Practicum model to apply teaching methods.

Ongoing Development: Our curriculum addresses studies in brain research and learning differences.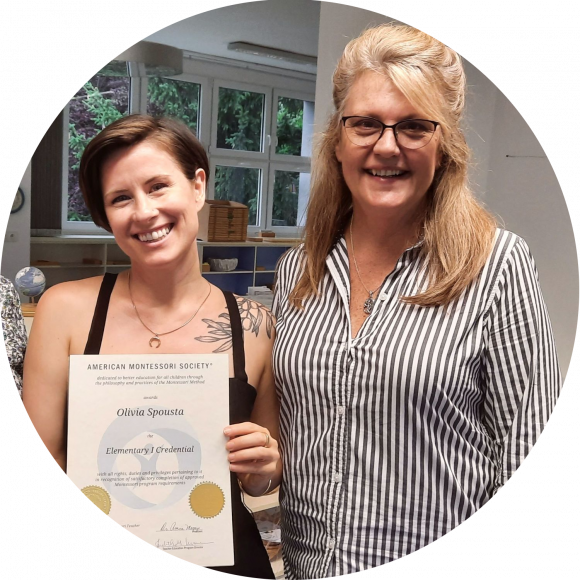 Welcome!
Welcome to Duhovka Montessori Teacher Education Program! We will be happy to be a part of your Montessori journey. At DMTEP we are committed to building and strengthening Montessori education within local communities, across states, countries and continents.
With us you will form relationships with other students and trainers that support your growth and transformation of becoming a Montessori guide. You will read books, watch lessons, observe teachers, practice with materials, create notebooks and manuals, and cooperate with others on projects. This work is the foundation that you will build your practicum experience upon.
We know that you are making a tremendous commitment by joining us on this path to becoming a Montessori educator. DMTEP is committed to ensuring you receive quality courses, long term support through earning a credential and beyond, and camaraderie among peers and teaching staff to nourish your lifelong journey in Montessori education!
Judith Luman, Ed.S.
Elementary Level Director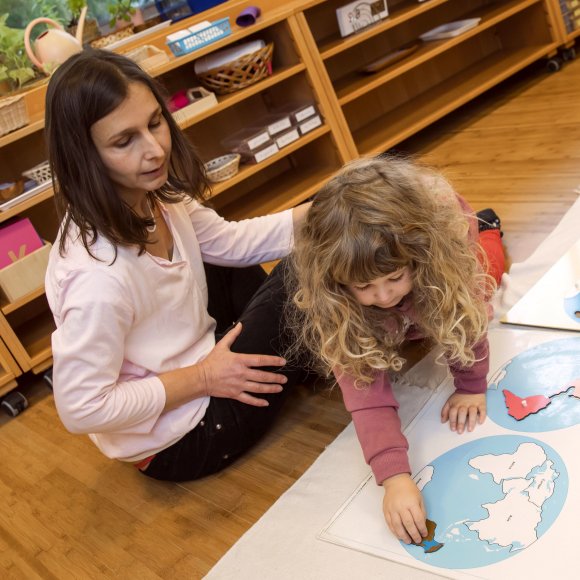 Our Montessori courses
Our courses are taught in English by an internationally credentialed staff and delivered through many modalities. We want adult learners to experience and participate in learning using their learning styles. Having the ability to work from personal strengths and to work with others to support intelligences that are not as strong, ensures a teacher can view students in terms of their strengths and areas needing growth and support.
Some of the teaching and learning methods include but are not limited to: discussions, oral lectures, and powerpoint presentations. We also include hands-on practice with materials, individual and group projects, environmental design, and creating Montessori materials. We continually emphasize self-awareness and community building to support the overall experience of the transformation of the guide.
Combined together this helps the adult learner to understand and begin the internalization of the scope and sequence of the Montessori pedagogy and curriculum.
Graduates will earn an American Montessori Society Credential according to course level. This Montessori diploma is recognized by Montessori schools and organizations internationally.
The Program is a Professional Development course that does not offer any university degree or study points/university credits. Please study your country legislation for local recognition of a MACTE / AMS credential.